Inner Circle
members: Share a personalized version of this article from the
members area
.
Real estate agents, who are by and large self-employed, can relate to the importance of tax deductions. By reducing your taxable income, deductions naturally become your best friend during tax time.
The problem, though, is determining what can be written off, and what can't. It's always best practice to consult your accountant, but a cheat sheet sure helps jog the memory so you don't overlook anything you're entitled to take.
Such a cheat sheet is exactly what's below, thanks to two folks: 1) Fred Podris of Podris Tax Service who compiled the list, and REALTOR® Brenda Douglas who kindly posted it to Facebook for all to benefit from.
One problem, though. This cheat sheet, which was originally intended as a print-out, isn't legible in digital format (see below). No worries, though. Just keep scrolling and you'll see that we've transcribed it for easy reading.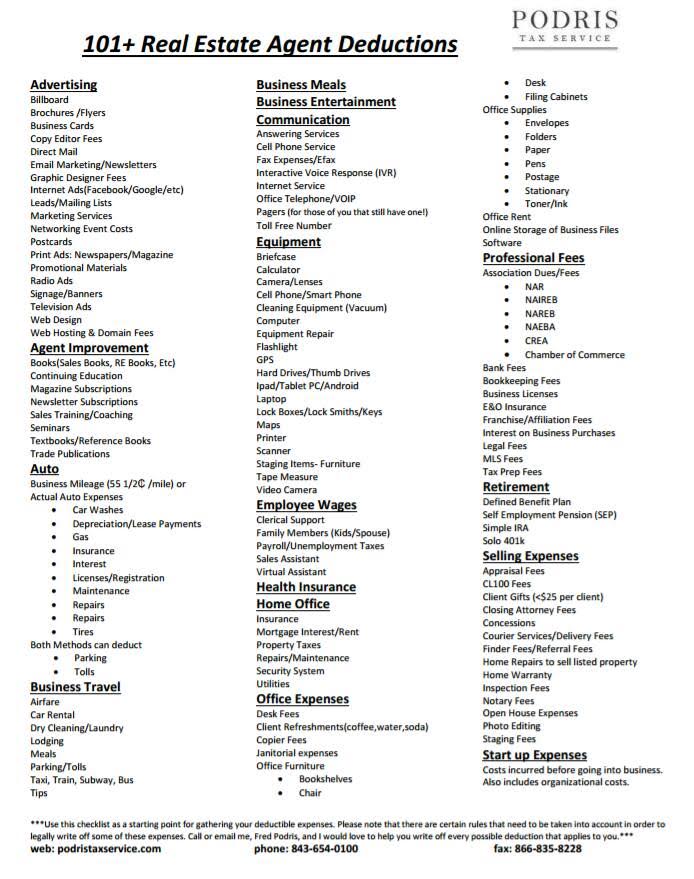 Pin
(Disclaimer: We're not a tax expert, and we don't play one on the Internet. Consult your accountant for tax advice. What's below is simply a list for quick reference.)
Advertising

Billboards
Brochures/Flyers
Business Cards
Copy Editor Fees
Direct Mail
Email Marketing and Newsletters
Graphic Designer Fees
Internet Ads (Google, Facebook, etc.)
Leads/Mailing Lists
Marketing Services

Networking Event Costs
Post Cards
Print Ads (Newspapers and Magazines)
Promotional Materials
Radio Ads
Signage/Banners
Television Ads
Web Design
Web Hosting and Domain Fees

Agent Improvement

Books (Sales Books, RE Books, etc.)
Continuing Education
Magazine Subscriptions
Newsletter Subscriptions

Sales Training/Coaching
Seminars
Textbooks/Reference Books
Trade Publications

Auto

Either Business Mileage (55.5 cents per mile) Or…

Auto Expenses

Car Washes
Depreciation/Lease Payments
Gas
Insurance
Interest

License/Registration
Maintenance
Repairs
Tires

Both Methods can Deduct

Business Travel

Airfare
Car Rental
Dry Cleaning/Laundry
Lodging

Meals
Parking/Tolls
Taxi, Train, Subway, Bus
Tips

Business Meals, Business Entertainment, Communication

Answering Services
Cell Phone Service
Fax Expenses/Efax
Interactive Voice Response (IVR)

Internet Service
Office Telephone/VOIP
Pagers (those still exist?)
Toll Free Number

Equipment

Briefcase
Calculator
Camera/Lenses
Cellphone/Smartphone
Cleaning Equipment (Vacuum Cleaner)
Computer
Equipment Repair
Flashlight
GPS

Hard Drives/Thumb Drives
Ipad/Tablet PC/Android
Laptop
Lock Boxes/Locksmiths/Keys
Maps
Printer
Scanner
Staging Items – Furniture
Tape Measure
Video Camera

Employee Wages

Clerical Support
Family Wages (kids/spouses… really)
Payroll/Unemployment Taxes

Sales Assistant
Virtual Assistant

Health Insurance, Home Office

Insurance
Mortgage Interest/Rent
Property Taxes

Repairs/Maintenance
Security System
Utilities

Office Expenses

Desk Fees
Client Refreshments (Coffee, Water, etc.)
Copier Fees
Janitorial Services
Office Furniture

Bookshelves
Chairs
Desks
Filing Cabinets

Office Supplies

Envelopes
Folders
Paper
Pens
Postage
Stationary
Toner/Ink

Office Rent
Online Storage of Business Files
Software

Professional Fees

Association Dues/Fees

NAR
NAIREB
NAREB
NAEBA (how many combos of those letters are there???)
CREA
Chamber of Commerce

Bank Fees
Bookkeeping Fees
Business Licenses
E & O Insurance
Franchise/Affiliation Fees
Interest on Business Purchases
Legal Fees
MLS Fees
Tax Prep Fees

Retirement

Defined Benefit Plan
Self Employment Pension (SEP)

Selling Expenses

Appraisal Fees
CL100 Fees
Client Gifts (<$25 per client)
Closing Attorney Fees
Concessions
Courier Services/Delivery Fees
Finder Fees/Referral Fees

Home Repairs to sell listed property
Home Warranty
Inspection Fees
Notary Fees
Open House Expenses
Photo Editing
Staging Fees

Start Up Expenses

Including organizational costs
Quick word of caution, as stated by accountant Fred Podris in the original document: "Please note that there are certain rules that need to be taken into account in order to legally write off some of these expenses."