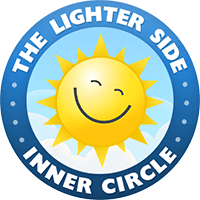 Inner Circle
members: Share a personalized version of this article from the
members area
.
Expressing gratitude to clients with a gift is a traditional way many real estate pros like to sew up their transactions. Closing gifts not only serve as a nice gesture on a happy occasion, but they can also leave a lasting impression upon the buyers and sellers who receive them.
Giving any gift at all is most certainly appreciated, but creativity is key if you're going for maximum impact. Creativity isn't everyone's strong suit, though. No worries! We reached out to our email list, and they were happy to oblige by sharing the best closing gifts they've ever given.
Some are practical.
Some are creative.
And a few have backstories that are downright touching.
1.
I'm a newbie and just getting started on fun closing gifts, but so far I have found that my clients absolutely love them. They keep my face in front of them all the time.

Megan Ramos
Keller Williams Legacy One
Advantage Home Team
2.
Monogrammed Yetis with my contact info on the bottom, so every time they take a sip someone else will see my info. and ask.

Jenny Heymann, REALTOR®
CORIE Properties
3.
I would say the best/most unique gift I have ever given for a closing was when I gave my clients (who moved from Hawaii to Denver, CO) a snowblower after they moved in.

They had never lived around snow before so I thought it would be a great and fitting gift being that I knew a huge storm was on its way. The snowblower made it just in time, and I think they loved it. Lol!

Steve Tower, Realtor Associate (RS-76204)
Coldwell Banker
Pacific Properties
4.
What to get high-end clients that have EVERYTHING? Chances are, they're buying a home with a pool…

Oversized monogrammed pool towels for everyone in the family! Anyone that has owned a pool knows that there are NEVER enough towels and no one will run off with monogrammed ones! If you really do it right, their friends will ask where they got them. Your clients will answer, "Oh, our fabulous Realtor!"

Lindsey Holley Newburn, REALTOR®
Griffin Real Estate Group
5.
It's hard to beat custom embroidery from Stitch Folks. SO personalized yet reasonably priced! Clients will remember you forever because of this. These are so impressive it makes me wanna buy one for myself!

Olivia Nicodemus, Agent/REALTOR®
The Gene Group REALTORS®
6.
My favorite and most memorable closing gifts were hand made signs from recycled pallets. I have an old agent friend who went into referral status and is so creative. She made me these super cute signs, burned each sign with the year and last name of the client and attached a little piece of twine to hang it. I love them and when I give them to my clients at closing their eyes light up when they see "our first home" and then the year and last name. Super personal & super unique.

Lindsey L. Vinzant, Realtor®
The Amanda Hoke Real Estate Team
Carder Realty Group
7.
I like to give reproductions of old maps of the town that they're moving into. They're very well received. I can mount and frame them myself (saves $$), and I can put my card on the back. Every time they look at the map they (hopefully) will think of me and recommend me to others!

Stephanie Stone, REALTOR®
Coldwell Banker Residential Brokerage
8.
I have a couple favorites:

I was helping a Middle Eastern man with his home purchase, and he was surprised by how much paperwork and time was needed to get it closed. He said that "back in his country", people could buy a home, exchange wads of cash, throw in a few goats, shake hands and the deal was done. The day of closing arrived, and I made him a gift basket that included $50 in singles, rolled up around toilet paper tubes to look like wads and a goat figurine. We shook hands, and I handed him the keys. He loved it!

I was helping a couple shop for homes and they were very religious people. They only wanted to see homes with Blessed Mary statues on the lawns. They wrote an offer on a home and asked for the statue to be included, but the sellers wouldn't leave it. I found out where they bought it and got the exact same one for my clients, and before closing I went over to the house to set her up. :)

Sarah D'Hondt, REALTOR®
Brookview Realty
9.
As a closing gift, I hosted a housewarming party for my buyer after closing. I received 3 leads from the party.

Lori Webster, REALTOR®, CNE
RE/MAX Sun Properties
10.
There is a guy in my hometown who makes handmade decorations out of stainless steel. He has many designs to pick from. I usually go with the flower for most of my buyers. This is such a great gift for their yard. Plus, they will always remember where they got it from and there friends will ask where/how they got it!

Ben Becker
First Weber
11.
A park bench.

I get my husband to assemble it, and I attached a brass plate to it, saying:
"Compliments of your Realtor, DARLENE ANSTEY, Broker"

Darlene Anstey, Broker
Royal Lepage Trinity Realty, Brokerage
12.
One of my clients had a 4 year old daughter that was fighting leukemia and going thru a series of chemo. She (the daughter) always wanted me to hold her and she would play with my long hair (she had none). So, when we closed on their house, I went and had 13 inches of my hair cut and donated it to Locks of Love in her honor. Not really a closing gift, per se, but it meant a lot to my clients.

Tricia Kenney, REALTOR®
Treeline Realty Corp.
13.
We get referrals from this housewarming gift. The buyer never forgets us when we give this mouse in house framed print.

On the back we print: "May this be the only mouse that visits your house." Under that is our company logo, contact info and the signatures of everyone on team that made the sale happen.

Julie D'Aquila
realestateinvesting-gurureview.com
14.
Best closing gift I ever, ever gave was early on in my career. Worked with a wonderful family and the children wanted a dog. At closing, I handed over a certificate for the local animal shelter. I am a huge fan of rescuing. It was a win-win for everyone, both the dog and the family!

Cheryl A. Brun, AHWD, ASP, GRI, MRP, SRS
Sibcy Cline Realtors
15.
One of the best closing gifts that I like to give is a picture of the client's last name that they can hang. I use Alpha Beta Photography, and the cost is usually about $115 CAD (about $75-80 US). It's a unique gift and one that my clients will usually hang in a prominent place in their living room, foyer or family room. Love their work — and they ship it directly to my home or office and I can order it online.

Jim Datlen, Real Estate Broker/Trainer
Century 21 Millennium Inc., Brokerage
16.
An orange tree. My clients had been trying to buy a home for years after falling on hard times (and a crooked lender). They have 5 beautiful children and the kids always wanted an orange tree . So, an orange tree, soil, and fertilizer it was! Got an email 2 weeks after close telling me how much fun the family had planting the tree together and how they think of me every time they see the tree.

Rebecca Johnson
HomeSmart
17.
A Pizza Delivery Worksheet.

It never fails. At the closing, when I know my clients are moving with friends & family, I show up with a pizza order worksheet. Simple & easy: topping options, number of attendees, preferred beverages & the date/time of their move. It's great to stop in with food & drinks the day of the move. Revisiting the experience with the clients, meeting their closest friends/family members. Remember the paper plates & napkins… you never know if the kitchen is unpacked or not!

Lindsey Kehr, Realtor®, ABR/SFR/BPOR
Director of Business Development
Realty Executives
18.
I provide a cake that looks like the buyers house that I bring to their house warming party with a very nice bottle of Dom. The cake is a hit and I get lots of the guest at the party asking for my card and many great referrals.

Michelle Spataro-Russell
CalBRE No. 01944339

SHANKLE REAL ESTATE
Agents: Loving these closing gift ideas? Want to see the rest of Lighter Side's marketing ideas for agents? Click here to check out our "Inner Circle".
19.
Tom Brady's signed helmet.

My client told me he wanted to get more signed memorabilia. I've never seen someone so grateful for the gift I got him. He said it was one of the nicest things anyone has ever done for him!

I get gifts just to put a smile on my clients face.

Ashley Carpenter
Diamond Realty & Associates
20.
Original home portrait sketch notecards by Joseph Galantino.

Mary Jones, REALTOR®
Keller Williams Realty
21.
Last week I bought my buyers a pool table. While looking at homes, the husband kept saying he wanted one for their new home! Okay… okay… so it was a table top toy pool table, but hey it's a pool table! Haha it was pretty funny and they absolutely loved it! Of course I got them balloons, wine, cake and a gift card too! Love love love working with buyers!

Lanett Graziolli
Howard Hanna Real Estate Services
22.
It was a custom build home. I would go out and check on the progress. One day when I was out at the house, I grabbed a pallet. I then took it home and had someone paint it with my client's initial of their last name. I gave it to them on our final walk thru. It's still on their back patio. This was the final product. I thought it was need that they had a piece of the build process as a decoration piece. They loved it!

Sarah Dilks, Realtor® Associate
Coldwell Banker Select
23.
My buyers closed on a home and during the loan process they lost their father to Cancer. They didn't even tell me, but I had a hard time getting a hold of them until closing. I was fortunate enough to meet their father during the showing. As a closing gift I gave them an angel statue to go next to the bench that sat by the creek where they told met they always talked and prayed to their dad.

Mays Khalaf, REALTOR®
Comey & Shepherd REALTORS®
24.
I had clients arriving from out of state with a Uhaul late the night before Thanksgiving so I got the catered Thanksgiving meal from Publix (grocery store) ready to pop in the oven plus everything they'd need to enjoy it so they'd be able to spend their first Thanksgiving in paradise in their new home with all the family that came to help them move. It was waiting in the fridge when they arrived with the supplies on the counter.

They are still good friends years later!

Nicole Askew
Right Choice Realty
25.
The best closing gift I gifted was a personalized housewarming pillow that says "Home" with my buyers initials and their closing date. It also had a personalized message just for them on the tag on the side of the pillow along with my contact and brokerage information (for referrals and future).

And because there's advertising on it there's a partial tax write off!

Sheree Klausner
Century 21 Premiere Properties
26.
The best closing gift I still use today: a personalized cutting board from Personalization Mall. It allows me to personalize it with their names and at the bottom write: Thank you, Dee Langley Realty Associates.

This way they will always have my name and it's the first thing for their home that is useful and pretty.

If they buy and sell with me then I use New Nest Pillows to again personalize a pillow with their names and a tag on the side with my name and phone number!

I have given personalized wine glasses, and the cutco knives too but I love the cutting board the best.

Dee Langley, REALTOR®, CDPE, SPS
Dee Langley Realtor Associates LLC
RE/MAX
27.
I always give a gift that coincides with whatever holiday is approaching or even perhaps just passed, as long as it's appropriate for the clients' religious beliefs, nationality, etc. This way each year when they take it out to decorate for that holiday they will think of me! Here's an example of a large pumpkin clay planter that I got at Home Depot last year. I bought a ton of the large ones (they never go out of style).

I had lots of closings in Sept. and Oct. last year so all of my clients received one and I have extras for this year. They can either use it as a planter or put a candle in it and it can be used inside or outside. It's durable so will last for years!

Inside of the card that I give with my closing gift I always give a gift certificate to a local restaurant that delivers too so they can use it on moving day when they are busy and don't have time to cook!

Christine Manzo, REALTOR®
The EZ Sales Team
Keller Williams Realty Greater Cleveland West
28.
I just closed with one of the sweetest ladies you will ever meet. We were able to close in 14 days time with the fast work of everyone and it was the smoothest transactions I have ever experienced. She is a huge prayer warrior and always shared scripture for relying on God for everything and this was His plan.

A lady at my church does watercolor and has some amazing artwork that sells in a local shop as well as on Etsy (https://www.etsy.com/shop/truecotton). I went to the shop one day looking for the perfect gift for this client and found one with beautiful colors stating one of the verses that the client had shared with me on numerous occasions.

After she opened it, her eyes filled with tears as she told me she had been in the shop before and really wanted this piece & frame, but she did not want to spend the extra money on it as she was buying a house. She was in awe that God used me to give her a gift that had so much meaning to her and that she would think of me every time she saw it in her home. Was truly very special.

Jen Wetzel, NC/SC Realtor & Team Leader
Re/Max Executive Realty
The "With Jen, You Win" Team
29.
My favorites are a customized cutting board (round or rectangular, depending on clients) from Chef Bella. I have their names on the front and a message engraved from me on the back ($90 + shipping).

Another big hit is having their last name made into a large framed piece of art by Letter Perspectives. Depending on frame & type of glass, it can cost $200 or thereabout.
A very special gift I've given to several clients is a hand painted water color of their home—each client has a story that made this gift extra special. I send the artist the photo & she does the pencil sketch & then watercolor. I think they're $125 or thereabout.

Most recently, during the holidays, besides giving Godiva gift bags that I put together, for many special clients I gave them a hand painted/stained birdfeeder made from a large gourd. The woman used real leaves to trace and then used pretty colors to decorate- they came out really awesome & each one is unique. She or I used a sharpie to put my name on the bottom of it with a tiny heart. They were a big hit! Usually $30-$35/ each but because I bought 20 or so, she charged me $25/piece.

Melissa Dabney, Realtor®
Long & Foster Real Estate Inc.
30.
The best closing gift I ever gave was for a couple that I closed on last month. As with many of my clients, we are also Facebook friends, so I had access to many of their personal pictures.

My clients were a young couple and this was their first house that they were putting on the market. I had a photographer come out and take photos for me. The wife asked if she could have a copy because she wanted to be able to show her baby her first home when she got older.

After we got them under contract, of course they were very busy packing and the idea of the pictures had most likely left her mind! It was a quick sale, so we were very busy getting all the details taken care of and getting them moved out.

Little did they know, I had combined the listing photographs and some of their personal photos from Facebook. Using Shutterfly, I created a hardback book of pictures of their home and family that they can keep forever. It definitely brought some tears to their eyes. Hopefully, they will also remember and think of me as their agent for life when they see it!

The cost is minimal. The total including shipping was $46, but could be less if you have discounts offered by Shutterfly.

Susan Farrow
Associate Broker/Community Association Manager
Liberty Management – Real Estate Division
31.
One of the most thoughtful/helpful/meaningful closing gifts I've ever given was to a young expecting couple buying their first home. They were so ecstatic to finally have scraped up enough to be home owners, however they had nothing leftover. I bought them baby a car full of baby gear, and it brought happy tears to their eyes. It was only an $80,000 house to me, but it meant the world to them. It was a happy win/win for us both.

Dorie G. Nelson
All Property Brokers LLC
32.
The best part of a closing gift I've given so far was a pair of matching keychains for their new house keys.

The keychains show the date of my clients' closing, marking their date of homeownership. All printed on a map of their new neighborhood! Quite awesome!!

Korinne Morrison, Realtor®
Comey & Shepherd
And finally, three feel-good closing stories to brighten your day. :)
33.
The best closing gift I ever bought was for a young couple that had suffered many trials & tribulations leading up to the purchase of their first home together. The wife had to do a short sale on the condo she bought when she was single as her business suffered the effects of our failing economy. They became pregnant with their first child, life was getting good again until the baby was delivered stillborn.

While we were looking for their new home the wife commented many times that her favorite tree was a Japanese Maple and noted that she wanted one in the yard of the home they would buy. We put in a few offers that didn't work out, including one on the home that fit their criteria perfectly (which was next to impossible to accomplish). The offer was rejected in favor of another one, but I received a call from the listing agent a few weeks later saying he was going to put the house back on the market. My buyers had not found a home so they were now able to buy the home of their dreams (A Craftsman Bungalow within walking distance of downtown Rochester, MI for no more than $150,000 with a decent sized lot).

The only thing that was missing was the Japanese Maple, but we were in the dead of winter so I ordered the tree for them & presented them with a small "Money Tree" as a symbol of what would be delivered in the spring. That tree sits proudly in front of the house that was thought to be nonexistent & was planted in memory of their first child that was stillborn. They now have three lovely daughters & will live in that home for the remainder of their lives, watching the tree grow to its full glory.

Sharon Chase, Associate Broker
Michigan Real Estate Resource—Keller Williams Realty
34.
In June of 2015 I had clients, a young couple, purchasing their first home. I had been working with them since Dec of 2014 (credit repair). Throughout the process, as I do with most of my clients, we became close. In fact, the whole family and I became close.

After searching a couple of months, we found the perfect property in Fontana, CA, an REO HomePath property (that should say it all!). We submitted the offer and unfortunately were out-bid! They were devastated.

I told them not to worry, fate has a funny way of working out! And don't you know, I was right! The original offer fell through and we won the bid!!

The day we got the great news, we ALL (and when I say all, I mean both sets of parents, and all 7 siblings!), went back to the property to show everyone what we had just opened escrow on! Open-mouthed smile Papa Charlie, which was my client's father, was so overwhelmed with joy, that with a slight tear in his eye, he looked at me and said, "This is perfect, thank you for taking care of my son". I'm not a miracle worker, just an agent, lol!

Two days later, while preparing to do the inspection, I received a call.

Papa Charlie had passed away from a sudden heart attack the night before. I was in complete shock and could only imagine how the rest of the family was feeling. I explained to my clients, that I completely understand if they wanted to cancel escrow. They refused and said he would of wanted us to continue.

So, after a longer than usual escrow, and a few sleepless nights later, we closed!! And for their closing gift, I got a picture of Papa Charlie, framed it, and placed it in the living room of their new home. Later that day, we meet up so that I could give them the keys, and as they walked in, saw the picture, they said…

"Now it feels like home, Papa Charlie in the living room."

No, this wasn't a big expensive gift, but I'd like to think it was a gift they will remember for a long long time.

Dawn Imes
Century 21 Beachside
35.
The best closing gift I ever gave was on my first closed transaction and it was a key chain. Here's why:

I started my career in Real Estate as a full time agent in 2013 after leaving a high level job with a national wireless retailer thinking I could come in and still be the top producer and leader that I always was. NOT TRUE. This was much harder than I ever thought it would be. I had no book of business, no friends or family that were in the market to buy or sell, and shockingly they all had or knew Real Estate agents already!

After about 3 months I remember getting a lead from an online lead source on a Saturday morning. By the time I called the lead, after less than a minute had gone by, the person picked up the phone and told me someone had already called them and they had an appointment with another agent. Frustrated and disappointed, I went to my wife and told her what happened. She was also frustrated and wondering if I'd made the right decision to sell real estate full time. She asked me, "How are you ever going to sell a house?" I replied, "I really don't know yet."

The next couple weeks or so later I got a call while on floor time at my office. The person calling wanted to look at a house that was at a low price point. He was frustrated that every agent he called seemed like they didn't want to help him. He was trying to find a home for his family. I told him I was committed to helping him and he gave me a chance to work with him. We met at the home he called about and it was in pretty bad shape so it didn't qualify for the Zero down financing he had been approved for. I didn't realize at the time that what I was trying to do was going to be so hard. Find a home that qualified for zero down financing, on a very low budget, that was big enough for a family of 5 plus pets.

During this process I got to know my client's wife a little during showings. She was very humble and sweet and as I got to know them I really wanted help them find the perfect home. After a month of looking we finally were able to get something under contract that was perfect for them. Then after a few bumps in the road with financing we closed on Mother's Day in 2014. I had no money to give a closing gift but I wanted to make this moment special for them. I thought on it for a bit and finally came up with something.

That afternoon on Mother's Day in 2014 I met my clients at their new home to give them the keys. When they arrived I presented the keys to my clients wife with a keychain that had a heart and inside it said "#1 Mom." Her eyes got watery she was so happy. I had been a full time agent for 6 months at that point without a closing and that moment made me realize I had made the right decision to become a Real Estate Agent and I haven't second guessed it since.

Jason Munoz
All South Sound Homes
Agents: Loving these closing gift ideas? Want to see the rest of Lighter Side's marketing ideas for agents? Click here to check out our "Inner Circle".